You got as far to the past as archives allowed, you have hundreds of information fragments about your ancestors and you have created a family tree displaying relationships between dozens of relatives in a specialized software, but it still doesn't fit the bill? Maybe it's high time you took all the plain old genealogic data and created your family's unique story. The story is exactly what will make your family book. We have dozens of tips and pieces of advice for you on how we write family books for our clients. Let's get inspired.
Advice no. 1: From the beginning to the end
Like every good story, your family book should have an opening and an ending (even though your family's story hasn't ended yet). Start with the oldest piece of information you found about your ancestors and continue to the present. You can finish with you grand-parents, parents, you or your children. The best way to write is to divide the story into individual generations where each of them is represented by a single chapter.
Advice no. 2: Branch by branch
If your family book is an ahnentafel or a combination of more paternal lineages, we recommend that you divide the whole chronicle into more individual parts. Every part should be dedicated to a specific part of the family tree or one family branch. It makes the book easier to read and individual stories will follow each other fluently.
Advice no. 3: Every data has its place in the book
Every ancestor in every generation should be connected to all the found vital records, land register books, indicator sketches, censuses and other sources concerning them. You don't want all the hours spent in archives and on the Internet to be wasted. Keep in mind that most people browsing and reading the book won't be able to read most of the records, so add a Czech transcription.
Advice no. 4: Tell stories
Now comes the hardest part – make stories of individual ancestors based on the sources and information found in them. Birth, marriage, military service, children, occupation and the last breath. The more information you found, the richer the story will be.
Advice no. 5: Make it juicy
Not watery! Write down everything that can bring an ancestor's life closer to us, whether it is a description of traditions, events and live in their era or a history of places you family lived in. Don't forget to explain all the terms used in the records so that your readers can understand what their ancestors' lives looked like.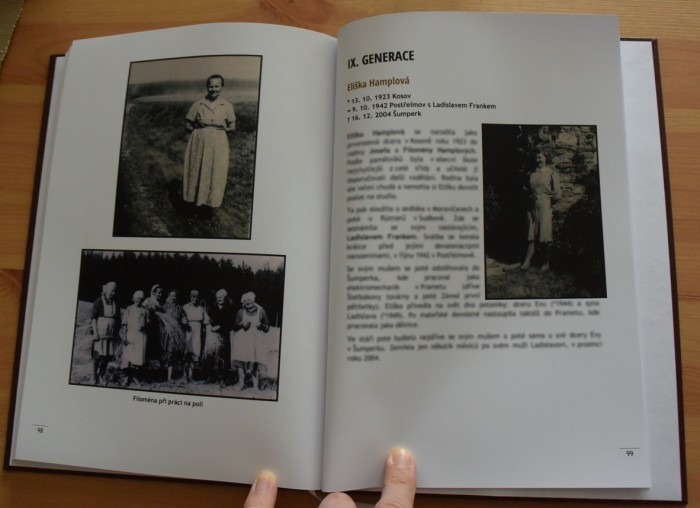 Advice no. 6: Jack of all trades
You should pay special attention to what your ancestors did for a living. Whether they were peasants, houseless serfs or craftsmen, try to describe their occupation to the readers. You can also add pictures of historical period tools they worked with on daily basis.
Advice no. 7: Make it look nice
Make the text more vivid with pictures. Apart from the indicator sketches and photocopies mentioned above, use scanned photographs of the ancestors and their relatives (don't forget to visit your relatives who can be a valuable source of not only the photographs but also other information). The text can be juiced up with old maps of the places your ancestors lived in or photographs of churches where the event described in vital records took place.
Advice no. 8: Family tree like a signpost
Your family tree should be in the family book because it represents (apart from its content) an element essential for your readers' orientation in the ancestors and the book itself. You can have the tree painted by a graphic artist or a painter, create it in a table or in a genealogic software.
Advice no. 9: Boring statistics…
If you follow our advice, your family book will slowly grow. If you don't think it is big enough, add different statistics about your family. It can be about the most common names, causes of death, average age of marriage, delivery, death etc. Such information can be useful specially when it comes to extensive ahnentafels, the statistics will be more interesting there than in direct family lines.
Advice no. 10: Don't forget the sources
Mention all the sources you used to find the information about your ancestors so that your children will be able to find and verify the information in case they want to keep working on the family tree.